Iran's Navy once again harassed US ships operating in the Persian Gulf, this time coming within 60m of the ships on Monday night, prompting one of the American ships to fire warning shots, according to Commander Rebecca Rebarich, a spokeswoman for the US Navy.
Three fast inshore attack craft from the Islamic Revolutionary Guard Corps (IRGC) Navy came within 60m of the USS Firebolt, a Navy patrol coast ship, and the Coast Guard cutter Baranoff, Commander Rebarich said in a statement.
The Iranian ships kept operating close to the US vessels despite repeated bridge-to-bridge warnings and the use of loud-hailer devices. In response, the Firebolt fired warning shots, Commander Rebarich said, at which point the Iranian ships backed away to a safe distance.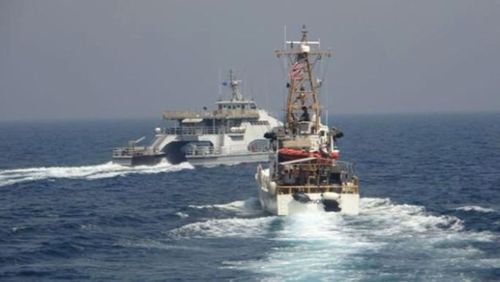 "Throughout the interaction, US forces proactively communicated with the IRGCN vessels and executed pre-planned responses to reduce the risk of miscalculation, avoid a collision, and to de-escalate the situation." she said.
The incident marks the second time this month that ships from the IRGC Navy have harassed US ships in the Persian Gulf.