The session, set for 2pm, will focus on new evidence involving the Department of Health and Human Services. There will be no witnesses, simply a statement from the inquiry Chair Jennifer Coate and Counsel Assisting Tony Neal QC.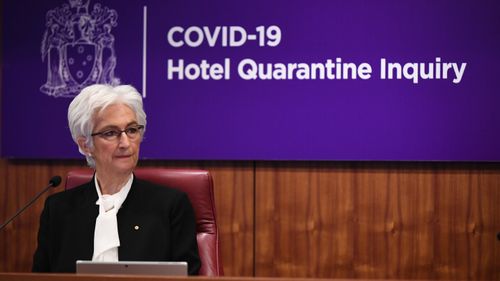 The Honourable Jennifer Coate AO speaks during the COVID-19 Hotel Quarantine Inquiry on July 20, 2020 in Melbourne. (Source: Getty)
9News understands the former judge will have some strong words about information that came to light via the media last week.
Chief Health Officer Brett Sutton gave evidence that he was not involved in setting up hotel quarantine and didn't know about use of private security until the Rydge's outbreak in May.
But emails reported by The Age have renewed scrutiny on earlier evidence provided to the inquiry.
What will be important is how Judge Coate sees the alleged holding back of emails by the DHHS, which may have caused misleading in the inquiry.