While obviously being a sad story from the Australian perspective, what a moment this is for Alison Riske who is ranked 55th in the world.
She advances to the quarter final stage of a Grand Slam tournament for the first time in her career.
The 29-year-old was incredibly impressive throughout the match, even when she lost the opening set.
She has certainly had a gruelling run to the quarters, having gone to a deciding set in all four of her matches, and she is understandably proud of her efforts.
"I'm so excited," she says after the win.
"I'm so proud of myself for the way I handled today's match. I've been ready to battle every day that I go out there and that's really showed in all of my matches and I couldn't' be more proud of myself.
"I couldn't begin to say what it means to me. I think ultimately just to have overcome the matches the way that I have, that's ultimately what i'm most excited about.
"The way that I've been fighting that is most exciting to me."
Riske says that she backed herself to dominate on Barty's serve despite the Australian's success coming into the match.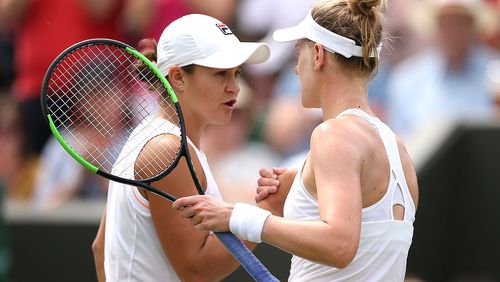 "Honestly I felt like I hadn't been starting out well in all my matches," she says.
"I knew I had the confidence if I managed my service game, I have a lot of confidence in my return game and that's what happened."
Much has been made of how much success Riske has had on the grass court at Wimbledon, and she admits she doesn't want the tournament to end.
"It definitely brings out the best in me," she says.
"I think my game is very suited to it. I hit a very flat ball and I feel at home here."